The Joseph Alexander Library at YUHSB, a historic and aesthetically inspiring space, is the physical heart of the school.
Reaching through the second and third floors of the building, the library houses a continually growing collection. Offerings include 14,000 volumes of fiction and non–fiction from across the globe, encompassing diverse eras and cultures. Other print and online resources include a range of periodicals, study aids and college information. Our e–book collection, DVDs, online and digital tools put the world of 21st century information literacy at our students' fingertips. Our growing Judaica collection also includes a wide range of electronic resources, indispensable when pursuing Tanach and Talmud study. Eight sections of seforim make the library a true meeting place of Torah and Madda.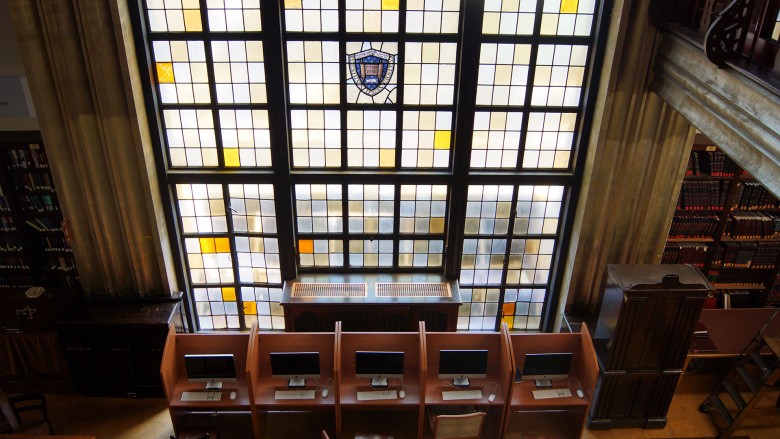 Students use the library for more than just text. Our lending library of over 250 films, including a collection of classics, attracts both students and faculty. The space serves as a site for special programs and lectures, team and club meetings, independent study, faculty discussions and class review sessions. Study periods and lunches are often spent doing schoolwork, participating in extracurricular activities, or relaxing with friends in the library. As a 21st century resource center and community hub, the Lions' Library fills an integral part of MTA's mission by preparing students to navigate the educational and societal challenges of the information age while sustaining our tradition's guiding ideas, practices and vision.
The Library provides an environment that fosters learning by maintaining an atmosphere where students can easily access, synthesize and evaluate information and ideas in a stimulating, supportive environment. Each young man is taught how to be a responsible member of the Jewish and world community while developing the skills that prepare him for his future as a member of global society and of Klal Yisrael.
The overarching mission of the library is to foster the growth of curious, competent, responsible, ethical, compassionate lifelong learners and seekers of information. To that end, the library seeks to:
Support the MTA curriculum (both Judaic and General Studies) through appropriate collection development in a variety of media
Provide convenient access to a wide range of print, electronic, and audiovisual resources
Endow students with the skills they need to gather and distill accurate information from resources
Supporting Information Literacy
Information literacy stimulates curiosity and empowers students to locate, evaluate and use information in a variety of formats. It is an important skill that will be used long after students have left MTA. The librarian collaborates with classroom teachers to create opportunities for students to become confident users and creators of information who can:
Understand how library and information resources are organized
Use strategic search techniques to find information in print, digital, and media sources
Evaluate relevance, appropriateness, reliability, and scope of different kinds of information and information resources
Use information legally and ethically, including proper documentation of sources
Know how and when to scan or to read in depth
Form a focused topic question, take notes, create outlines, write thesis statements, pursue and argument, and make conclusions
Know how to use digital and print tools to pursue and present research